Help & Advice
For expert advice please contact us on 01223 327463
Alternatively, email any questions to one of our designers on info@belvisifurniture.co.uk
Bespoke Furniture
We also offer bespoke wardrobes, walk-in closets, sideboards, childrens furniture and kitchens  Call us now to discuss  01223 327463. We are here to help!
Interior Design Service
Want to create your dream home but you're not sure where to start? Whether it's a room update or a complete makeover, our Interior Design Service is here to help. Find out more information about our available Interior Design Service.
Bonaldo Agea Chair
It is characterised by the striking legs rooted to the ground, as if to leave their mark in the space where they are placed. The legs support the padded body like two counterforts, giving the seat stability, charm, and an essential nature. The body and legs are covered in a single leather or fabric material, which reinforces the image of the Agea chair.
This elegant dining chair has been crafted using steel frame and finished in a fabric or leather that will match within your existing or new interior!. The seat cushion, and the backrest is padded with high quality cold-foamed polyurethane. This stylish dining chair will add an air of sophistication to your living room or dining area.
Product Features:
Modern design
Upholstered in natural fabric
Steel frame
Padding made from 100% cold-foamed polyurethane
Available in a range of different fabrics and leather
All available varsions: Click the Size/ Finish Tab for more information
If you like the Bonaldo Agea Chair, come say 'hi' at our Cambridge showroom, or just drop us an email. Our design team will be excited to help you with choosing the right chair or help you designing the whole room.
For further information please feel free to Contact Us via email, phone us on 01223 327463, or visit our showroom.
Upholstered finish: (click here to view online fabric collection)
800 – Eco Leather
900 – Class – Extra – Eco leather vintage
Must
Special
Capri
Dimensions: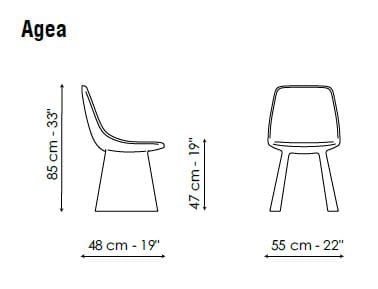 Bonaldo is one of Italy's leading manufacturers of high-end contemporary furniture. Founded in 1936, Bonaldo pays tribute to one of the oldest and most prized forms of Italian craftsmanship. The flair of the designers is combined with the expertise of master glass blowers to develop subtle and evanescent shapes, stripes and various shades of colour. Bonaldo also designs stunning contemporary designs for home furniture including stylish
beds
,
dining tables
and more, ensuring you have high-quality products for your home.
Bonaldo's collections are diverse and eclectic, featuring a wide range of styles, from sleek and modern to playful and whimsical. The brand's furniture is often characterized by bold shapes, bright colours, and unexpected materials, such as leather, metal, and glass. With a focus on quality and craftsmanship, Bonaldo furniture is designed to stand the test of time and add a touch of Italian style to any space.
OTHER PRODUCTS YOU MAY LIKE