Help & Advice
For expert advice please contact us on 01223 327463
Alternatively, email any questions to one of our designers on info@belvisifurniture.co.uk
Bespoke Furniture
We also offer bespoke wardrobes, walk-in closets, sideboards, childrens furniture and kitchens  Call us now to discuss  01223 327463. We are here to help!
Interior Design Service
Want to create your dream home but you're not sure where to start? Whether it's a room update or a complete makeover, our Interior Design Service is here to help. Find out more information about our available Interior Design Service.
The Arsenal from Cattelan Italia is a modular bookcase allowing endless opportunities to create the ideal composition. The Embossed Lacquered Steel Frame can be assembled to the right or left and is available in White, Black, Graphite or Titanium.
The shelves feature a range of finishes to complement including Canaletto Walnut, Burnt Oak, Embossed White or Embossed Graphite wood or White painted wood.
Dimensions:
A. W.90 x D.44 x H.221 ( the difference between option A or B is the position of the shelves )
B. W.90 x D.44 x H.221 ( the difference between option A or B is the position of the shelves )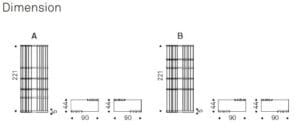 To view the finishes and dimension click here 
A brand encompassed by quality materials, attention to detail and where functionality finds expression in unique shapes and forms is the essence of Cattelan Italia. For bold statement furniture, Cattelan Italia is a perfect choice. Providing contemporary featured furniture with iconic silhouettes, Cattelan Italia is a high-end Italian brand with beautiful finishes, sophisticated style and innovatively designed furniture for the home.
Cattelan Italia is known for its high-quality craftsmanship, attention to detail, and innovative use of materials. From stunning
dining tables
and
chairs
to luxurious sofas, Cattelan Italia offers an impressive selection of furniture that is sure to elevate any living space. One of the standout features of Cattelan Italia furniture is its use of premium materials. The brand uses a variety of materials in its furniture designs, including high-quality wood, metals, and glass. They are also known for their use of luxurious leathers and fabrics, which add an extra touch of elegance to their designs.
Cattelan Italia furniture is also known for its unique and innovative designs. The brand's designers are constantly pushing the boundaries of what is possible with furniture design, creating pieces that are both functional and beautiful. Whether you are looking for a statement piece for your living room or a chic and modern dining set, Cattelan Italia has something to offer.
OTHER PRODUCTS YOU MAY LIKE