Help & Advice
For expert advice please contact us on 01223 327463
Alternatively, email any questions to one of our designers on info@belvisifurniture.co.uk
Bespoke Furniture
We also offer bespoke wardrobes, walk-in closets, sideboards, childrens furniture and kitchens  Call us now to discuss  01223 327463. We are here to help!
Interior Design Service
Want to create your dream home but you're not sure where to start? Whether it's a room update or a complete makeover, our Interior Design Service is here to help. Find out more information about our available Interior Design Service.
The Dune sideboard, designed by Giuseppe Viganò, creates striking perspective effects, highlighting different shapes depending on the observer's viewpoint.
Bonaldo Dune Sideboard has a wooden front doors that feature a wavy surface that creates an alternation of light and shadow, while the metal base has an asymmetrical design that enhances the horizontal structure of the sideboard. Dune is a sideboard with a rigorous style, which is also extremely elegant and meticulously designed down to the last detail. It is an element that fits perfectly into both a private home and an office. The Dune sideboard is available in two different colour combinations: bronze lacquered wood outer frame, Canaletto walnut doors and bronze-coloured metal base or lead lacquered wood outer frame, ash Carbone doors and lead-coloured metal base.
If you like the Bonaldo Dune Sideboard, come say 'hi' at our Cambridge showroom, or just drop us an email. Our design team will be excited to help you with choosing the right chair or help you designing the whole room.
For further details or help with your order Contact Us via email, phone us on 01223 327463 or visit our showroom.
Dimensions: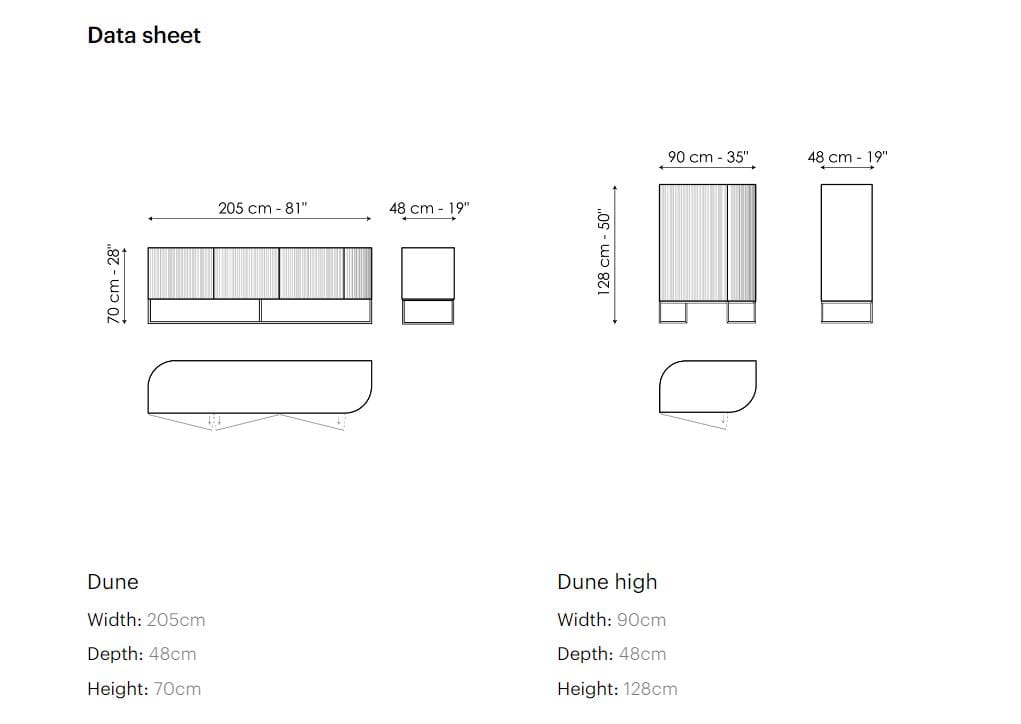 Finishes:
click here to view the online tech sheet and samples
Combination 1
OUTSIDE FRAME: Matt lacquered wood: bronze
DOORS: Veneered wood: Canaletto walnut
BASE: Plus metal: bronze
Combination 2
OUTSIDE FRAME: Matt lacquered wood: lead
DOORS: Veneered wood
BASE: Plus metal: lead
INSIDE SHELVES
Glass: transparent
Maximum capacity: 10 kgs per shelf
Bonaldo is one of Italy's leading manufacturers of high-end contemporary furniture. Founded in 1936, Bonaldo pays tribute to one of the oldest and most prized forms of Italian craftsmanship. The flair of the designers is combined with the expertise of master glass blowers to develop subtle and evanescent shapes, stripes and various shades of colour. Bonaldo also designs stunning contemporary designs for home furniture including stylish
beds
,
dining tables
and more, ensuring you have high-quality products for your home.
Bonaldo's collections are diverse and eclectic, featuring a wide range of styles, from sleek and modern to playful and whimsical. The brand's furniture is often characterized by bold shapes, bright colours, and unexpected materials, such as leather, metal, and glass. With a focus on quality and craftsmanship, Bonaldo furniture is designed to stand the test of time and add a touch of Italian style to any space.
OTHER PRODUCTS YOU MAY LIKE